Welcome to
Sarah Jane's Bakery
We aim to provide you with the best, made-from-scratch baked goods there is to offer. So please, explore what we have to offer and let us know if you have any questions!
---
---
NOW HIRIING
– Front of house associate
– Evening Baker (experience preferred)
Please email us at sarahjanesbakery@gmail.com for more information or to send in your resume.
---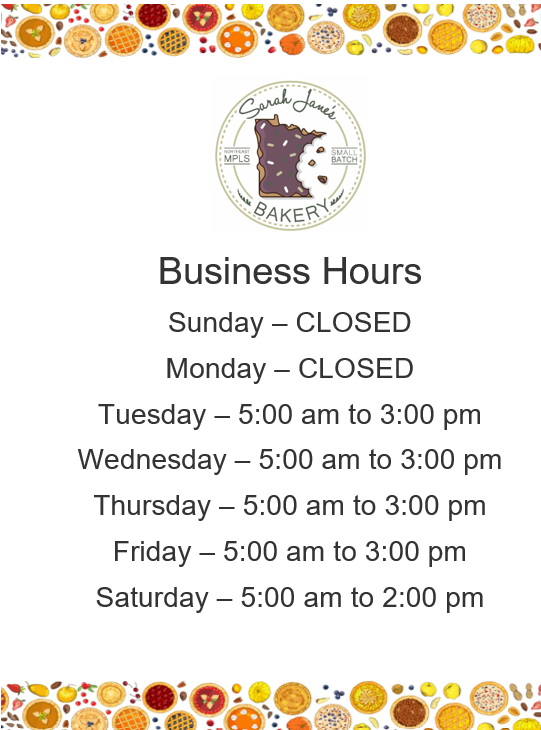 How to place an order
To order please email sarahjanesbakery@gmail.com or call the store during business hours, 612-789-2827. When ordering please include the following:
Date of pick up
Time of pick up
Items you would like to order
First and Last Name
Phone number
We will confirm all emailed orders. *Please don't email orders for same day pick ups. If you don't receive confirmation with in 48 hours your email wasn't received. The bakers respond to email once they wake up, typically around 3:00 pm or 4:00 pm.
---
Please click here for ordering timelines.
For ALL wedding inquiries please email Stephanie at sarahjanesbakery@gmail.com.
---
We currently do not offer delivery or curbside.
YES!!! We have gift cards!! Available in store for purchase or email us for information to have them mailed.
---