Welcome to
Sarah Jane's Bakery
We aim to provide you with the best, made-from-scratch baked goods there is to offer. So please, explore what we have to offer and let us know if you have any questions!
---
We will be closed on Monday, April 2nd!
Business hours will resume on Tuesday, April 3rd at 5:00 am.
Now taking orders for Easter! 
Last day to order will be Monday, March 26th at 6:00 pm. 
Pick ups for Saturday, March 31st from 5:00 am to 1:00 pm. 
Call 612-789-2827 or email sarahjanesbakery@gmail.com to place your order. 
When emailing please include the following:
date and time of pick up
items you are ordering
first and last name
phone number
Bread
Hot Cross Buns (pack of 6)
Poppyseed Bread (available in a quarter, half or full loaf)
Sour Dough
Rye Sour Dough
Dinner Rolls (packs of 12)
Fingerloaf (white bread only)
Sliders (white, muliti-grain or onion)
Bunny Cakes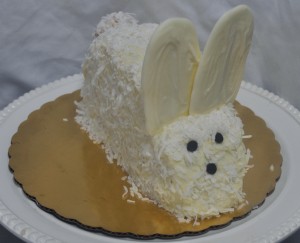 Choose cake flavor: Chocolate, Vanilla or Marble
Choose buttercream flavor: Vanilla or Chocolate
Plain or covered in Coconut
(No whipped frosting available, the bunnies fall apart)
Easter Bars
MN Mud Bars (Oreo© Crust, Brownie, Chocolate Mousse)
Lemon Coconut Cheesecake Bar
Key Lime Pie Bar
Rhubarb Crisp Bar
Cookies
Egg Window Cookies (sugar cookie sandwich with almond buttercream frosting)
Animal Crackers (egg free)
Macaroons (coconut or almond coconut)

Sugar Cookie Cut Out Shapes
Large Bunny
Small bunny
Egg
Chick
Assorted Flowers
Coffeecake Flavors
Almond Coffee Cake
Almond Paste Coffee Cake
Butter Pecan Coffee Cake
Cardamom Coffee Cake
Cardamom Almond Coffee Cake
Assorted Fruit Coffee Cakes

Flavor Choices:( Apple, Apricot, Blueberry, Cherry, Raspberry, Strawberry, Rhubarb, Lemon, Peach)
Cream Cheese and Fruit Coffee Cake (Pick one fruit from above list)
Honey Nut Coffee Cake
Poppyseed Coffee Cake (seasonal)
Cinnamon Raisin Coffee Cake
Cinnamon Nut Coffee Cake
Maple Almond Coffeecake
Apple Pecan Pull-a-Part Coffeecake
Caramel Pecan Loaf (Cinnamon twisted dough with caramel and pecans)
---
---
Monday thru Friday – 5:00 am to 6:00 pm
Saturday – 5:00 am to 3:00 pm
Sunday – CLOSED
---
T