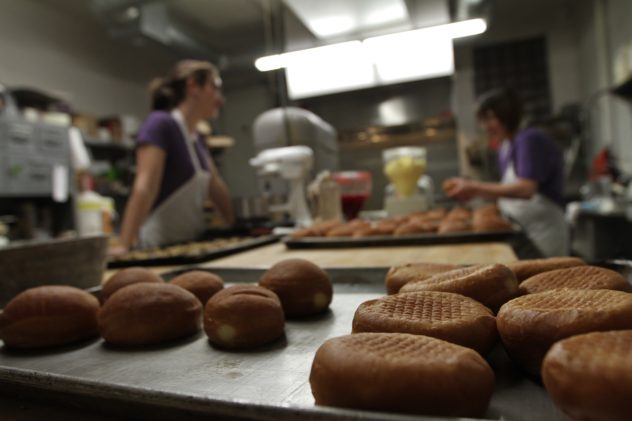 ---
To place an order please call the store during business hours at 612-789-2827 or email us at sarahjanesbakery@gmail.com.
Ordering Lead Times
Cake Orders

Pick ups for Tuesday, Wednesday or Thursday – 48 hours or more in advance
Pick ups of Friday and Saturday need to be placed no later then Wednesday (this may change week to week if we hit our order capacity early)

Cupcake Orders of 2 -4 dozen – 48 hours
Cupcakes Orders of 5 dozen or more – 1 week
Doughnut Orders 1 or 2 dozen – 24 hours or walk in and choose from case
Doughnut Orders – 3 dozen to 5 dozen – 24 hours
Doughnut Orders of 6 dozen or more – 5 days
Customized Sugar Cookies of 1 dozen to 2 dozen – 4-5 days
Customized Sugar Cookies of 3 dozen or 6 dozen – 8-10 days
Customized Sugar Cookies 6 dozen or more – 2 weeks minimum
Wedding related orders – 3 weeks minimum (this could change without notice)
Most other items can be ordered with in 24 hours
** ALL CUSTOMIZED DESIGN SUGAR COOKIE ORDERS NEED TO BE EMAILED, SARAHJANESBAKERY@GMAIL.COM.
We do not offer delivery, all orders must be picked up at the store.
All orders on Saturdays must be picked up by 1:00 pm!